Results cooperation
Members of Eurocer Building exchange information since 1994. Information about the Construction Products Directive and today about the Construction Products Regulation, about Accreditation issues and the harmonization of those criteria. Members exchange information about their local systems of certification, about the effectiveness of these systems and about their shortcomings.
Eurocer-Building is building a position of power and importance to manufacturers and suppliers regarding product certification that is likely to be obeyed. Levels of cooperation are distinguished, a vision and a mission of Eurocer-Building are defined and as a consequence the EB-network is created.
The following levels of networking and cooperation were distinguished: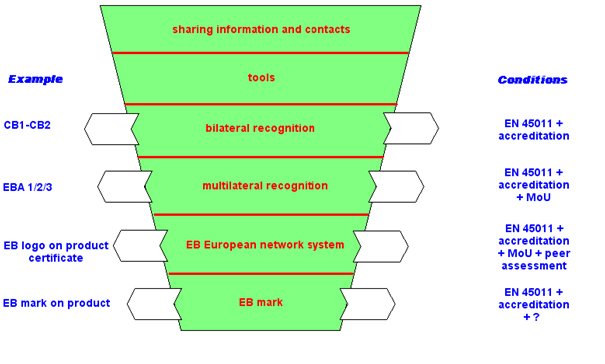 Product Family Groups have been created to enhance the harmonization of local certification schemes and to define common parts of these certification systems. This resulted in several multilateral recognition agreements (EBA's).
EBAS
Product certification as designed in network connection at the European level, results in one-stop-testing and -inspections for a manufacturer that want product certificates in 2 or more countries in one procedure. For that purpose eurocer-building has made the eurocer-building agreement system available (EBAS).
a.

Network connections through EBAS prevent the manufacturer, which want product certificates for a product family in 2 or more European countries, from duplication of tests and inspections.

b.

Nearly all building products bear CE marking.
Manufacturers can voluntarily affix to CE the certification mark of the third party product certification body that issues the product certificate. In a product certification scheme, products of domestic manufacturers and products of manufacturers abroad are equally reviewed.

c.

Certified products and services are easily recognizable by the product certification marks on the products.

d.

Manufacturers which want to make use of the one-stop-testing and -inspection facilities of eurocer-building can contact:
The Agreements that the members have signed are here.
The most distinctive way of networking is the adoption of a European EB product certification mark or label. Pilot projects started in 2011 to develop a European product certification scheme for the product family Gully and manhole tops (EN 1338), concrete paving blocks (EN 124) and coatings.